Add a Strat sound to your Les Paul; a Les Paul sound to your Strat or a jazz box sound to either and a Strat sound to your Tele.



DON'T settle for the stock switching or crappy stock pickups that came with your guitar; why switch guitars when you can just flick a switch?
Invisible switching or more knobs and toggles than a NASA control room; one or 10 pickups (really).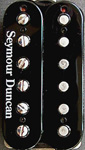 Yes, we can do the Brian May

mod, Dan Armstrong Super-Strat switch array and the Jimmy Page switch mod to any guitar on the market!